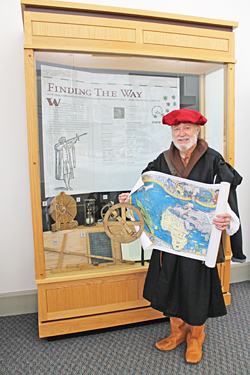 Exhibit Research Specialist Peter Cowdrey interprets as a sixteenth century navigator.
Join the Florida Historic Capitol Museum for an exciting day of family-friendly programs during Explorers Day at the Historic Capitol. Chad Light, from St. Augustine's Colonial Quarter, will present as Juan Ponce de Leon and tell stories from the 1513 expedition to Florida's shores. Visitors will learn how to use seafaring tools such as a quadrant or astrolabe with our sixteenth century navigator Peter Cowdrey and will be encouraged to explore the Museum to visit activity stations with coloring sheets and scavenger hunts. The Daughters of the American Revolution will also offer attendees the opportunity to perform genealogical searches for early American and Florida ancestors. A complete set of the programs will be offered in both the morning and the afternoon. Light refreshments will be served. This event is free and open to the public..
To share information about this event, please download the event flyer.
10:30 a.m. - Explore with Juan Ponce de León
11:30 a.m. - Navigating Your World
12:30 p.m. - Explore with Juan Ponce de León
1:30 a.m. - Navigating Your World
Available all day - Activity tables, scavenger hunts, and light refreshments
The Florida Historic Capitol Foundation, as the Direct Support Organization for the Museum, extends its deepest appreciation to the following Sponsors and Partners for their generous support and efforts in making this event possible.
Fisher, Tousey, Leas & Ball Attorneys at Law
Peter and Carol Cowdrey
Sponsorship opportunities are still available for this event. Please contact Shana Baughman Carroll at 850-487-1902 for more information.