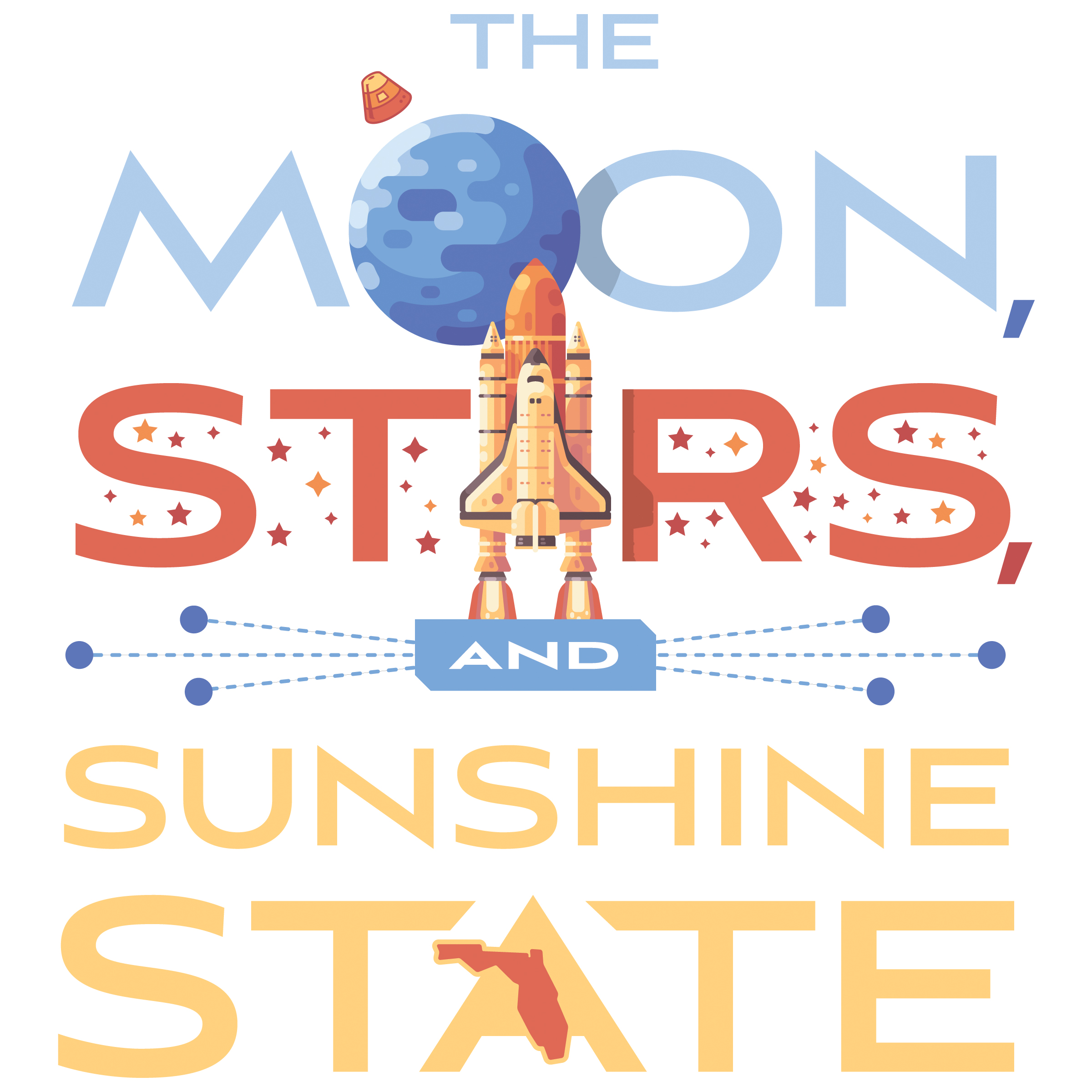 The Moon, Stars, and Sunshine State commemorates the 50th anniversary of a transformative time in global history: the landing on the Moon. More than 530 million people worldwide witnessed these first moments towards a new universe where human tenacity and technology intersect. But as the astronauts launched and the world was watching them, they were looking back at Florida. Join us as we showcase our state's important role in the past, present, and future of space exploration.
Young visitors can collect a special MSSS (Moon, Stars, and Sunshine State) commemorative ID badge at the Historic Capitol Museum, then continue their space-themed mission at Tallahassee's Challenger Learning Center to receive a special lanyard. Visit ChallengerTLH.com/Apollo for location and hours.
Launch Day and Opening Reception
July 16, 2019
9:32 a.m. – 7:00 p.m.

Join us to celebrate the opening of the new temporary exhibit The Moon, Stars, and Sunshine State! Start your museum visit watching the moment Buzz Aldrin, Neil Armstrong, and Michael Collins blasted off from Cape Canaveral at 9:32 a.m. on July 16, 1969. Visitors of all ages are invited to participate in Apollo themed activities and learn about Florida's space history.
Launch Itinerary:
10:30 a.m. – Reading of Roaring Rockets by Tony Mitton, followed by space-themed craft, all ages
12:00 p.m. – All ages "space yoga" in the Historic Senate Chamber
1:00 p.m. – Meet "Astro," the Challenger Learning Center Mascot
2:30 p.m. – Design your own Moon colony, guided activity for visitors 7+
5:30 p.m. – Opening reception featuring a toast to Florida's heroic space industry workers
Movie Night at the Museum: Hidden Figures (2017)
July 20, 2019
8:00 p.m. – 11:00 p.m.

Take a giant leap into the past on the 50th anniversary of the Apollo 11 Moon landing by watching Hidden Figures in the Capitol Courtyard. Experience the wonder every American felt fifty years ago with a screening of the historic Moon Landing coverage after the feature film, starting at 10:56 – the moment Neil Armstrong stepped onto the Moon on July 20, 1969.
Enjoy free movie snacks and drinks. Bring lawn chairs or blankets, and picnics are welcome. The movie will begin at approximately 8:45 p.m., but come early to secure your spot, enjoy activities, and experience temporary exhibit The Moon, Stars, and Sunshine State. Museum opens for activities at 8:00 PM; movie at sundown.
Trivia Night at the Museum: All Ages Edition
July 25, 2019
5:30 p.m. – 8:00 p.m.

This fun-filled, all-ages event offers teams a variety of mental and physical challenges—scavenger hunts, puzzles, speed challenges, and more! Teams work together and test their wits to complete tasks on our Museum playing field: indoors and out. Accumulate points for your team to win exciting prizes. Space is limited and advance registration required.
Registration fee includes pizza dinner and drinks (even adult beverages, for the grown-ups). $20 Members/$25 non-Members, max 6 players per team. Sign-in and food service starts at 5:30 PM, games start at 6:00 PM. Register Here: https://2019allagestrivia.eventbrite.com/
Summer Sips and Stories
August 15, 2019
5:30 p.m. – 7: 00 p.m.

Explore an iconic and historic building in a fun and casual after-hours experience led by Museum staff. Enjoy wine and cheese while you listen to special stories and create your own museum memories. Tour will include a special stop in temporary exhibit The Moon, Stars, and Sunshine State. Register by calling (850) 487-1902 or sign up through Eventbrite. Reservations are required and space is limited. $20 for Members / $ 25 for non-Members. Reserve your spot today!
Trivia Night: Florida's Space History
September 12, 2019
6:30 p.m. – 9:00 p.m.

Test your knowledge of Florida's space industry and the history of human space travel with an exciting evening of nostalgic trivia in our beautiful, historic building. Guests will enjoy snacks and drinks, and prizes will be awarded at the end of the night.
Register your team by calling (850) 487-1902 or sign up through Eventbrite. Registration fee is $20 per team, maximum members per team is 4. Advance registration is required. Don't have a team or just want to watch the action? Individual entry is $5.
The Florida Historic Capitol Foundation, as the Direct Support Organization for the Museum, extends its deepest appreciation to the following Sponsors for their support and efforts in making this exhibit possible.
Funding for these programs was provided through a grant from the Florida Humanities Council with funds from the National Endowment for the Humanities. Any views, findings, conclusions or recommendations expressed in these programs do not necessarily represent those of the Florida Humanities Council or the National Endowment for the Humanities.